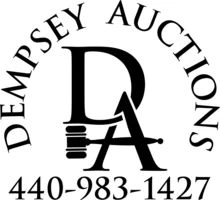 Check out our in-house auction, held in one of the back rooms of the Shops.
Dempsey Auctions hosts an auction every Thursday night. Preview at 5pm, auction starts at 6pm.
Nothing from the Shops is in the auction, merchandise is all fresh to the market from outside sources.
Dempsey Auctions & Estate Liquidation is the only full service company of its kind in the area. What that means to you is we sell everything, from one item to the whole house full. We don't cherry pick your items like many auction houses and estate liquidators and leave you wondering what to do with the rest.  We can do as little or as much work as you want, no job is too big or too small. We offer clean out services as well.
Fully licensed, bonded and insured.
Items sell on Thursday night and your check is in the mail on Monday morning.
Call Dennis at 440-983-1427 for more information.